5333 Sfoggia Thema front fertilizer unit NEW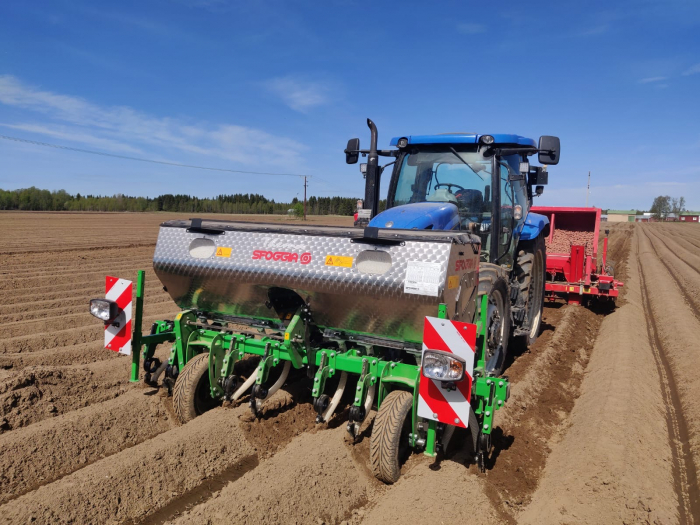 front fertilizer for potato planter

Sfoggia front fertilizer unit. Sfoggia Thema.
2-4 row (row distance for example 75, 80, 85, 90 cm for potato. (Or other for vegetables, berries etc.) (bigger 6-8 row mahines hydraulic foldable can be as option.)
For example 4x75 row with 8 outlets or 2x75 cm rows with 4 outlets.
Container of 930 liter in stainless steel.
cc tractor wheel 1,5m with mechanical outfeed. (Or other cc on demand.)
Fertilizer tines as standard. (Discs as option.)
Fertilizer tines can also be demounted for fertilizing in growing crop.
Can also be equipped with extra start fertilizer equipment for micro granulated fertilizer.
Can also be configured as rear mounted on tractor.
Gives possibility to do potato planting with combi unit, with front mounted fertilizer unit.
Also useful as well in potato cultivaton potato crop as well to vegetables, berries, nurseries, trees transplants etc.
To be completed with a Miedema Structural, AVR or Grimme potato planter for a complete set!
stockage
Please contact us for more info and price!