4642 LIMAS potato peeling Line with step peeler - SOLD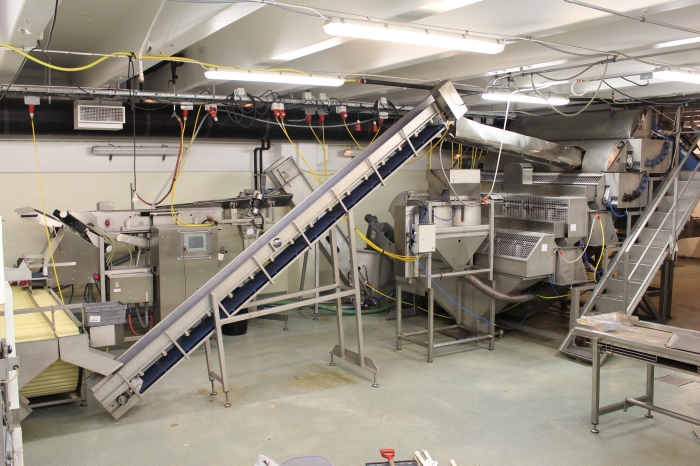 2+2 carborundum and knife peeler / Agroselector optical grader year 2009

Complete Limas peeling factory peeling line with Agroselector 6T-3M optical grader and step peeler.
The line consist of:
-EMVE box turner with feeding Bunker. Year 2009.
-LIMAS screw destoner for feeding peeler. Year 1996.
-LIMAS four step peeler (two carborundum step, and two knife step.) Perfect high capacity peeler. Year 1996.
-LIMAS screw conveyor. Year model 1996.
-Limas feeding conveyor to Optical grader. Year 2009.
-Agroselector 6T-3 6 M optical grader with vibratory feeder. Year 2009. Have newly got service.
-LIMAS manual inspection table. Year 2009.
-LIMAS return conveyor to return knife peeler. Year 2009.
LIMAS double head Knife Peeler. Year 2009. (Has been used as a return peeler.)
LIMAS conveyor from inspection table to grader. Year 2009.
-LIMAS roller grader with three bunkers with buttom screw conveyors. Year 2009.
-Cooling system for cooling product. Climaveneta.
- ATOMA Weigher Double head older.
- ILAPACK vertical bagger. Year 2000.
-Bag conveyor
-Complete electrical cabinet with frequency steering.
A complete peeling factory line for high class produce of peeled potatoes, carrots etc.
Please contact us for more info and price!